Having a functional, well-organized laundry room is a great way to encourage a productive laundry routine in your home. Setting things up can be tricky when unwanted eyesores like exposed washer hoses can negatively affect your space's aesthetic. Luckily, that doesn't have to be the case.
Here are six easy ways to hide washer hoses in your laundry room:
Install sliding doors.
Build shelves.
Hide hoses behind appliances.
Hang a strategically placed curtain.
Bring in some plant life.
Cover them with baskets.
This article will detail each of these options to help you find the perfect method for improving your laundry room. Read on to learn how you can say goodbye to having to look at those ugly washer hoses for good!
1. Install Sliding Doors
Sliding doors can be an extremely effective way to cover unwanted washer hoses while still providing plenty of accessibility. The wooden doors slide shut and keep things hidden when unwanted but can easily slide back open for maintenance and repairs.
Installing sliding doors is a simple enough project, but if you lack experience or skill in carpentry, you may want to consider hiring help. On the other hand, if you're comfortable with this type of DIY home renovation, installing these doors would make a fun weekend makeover!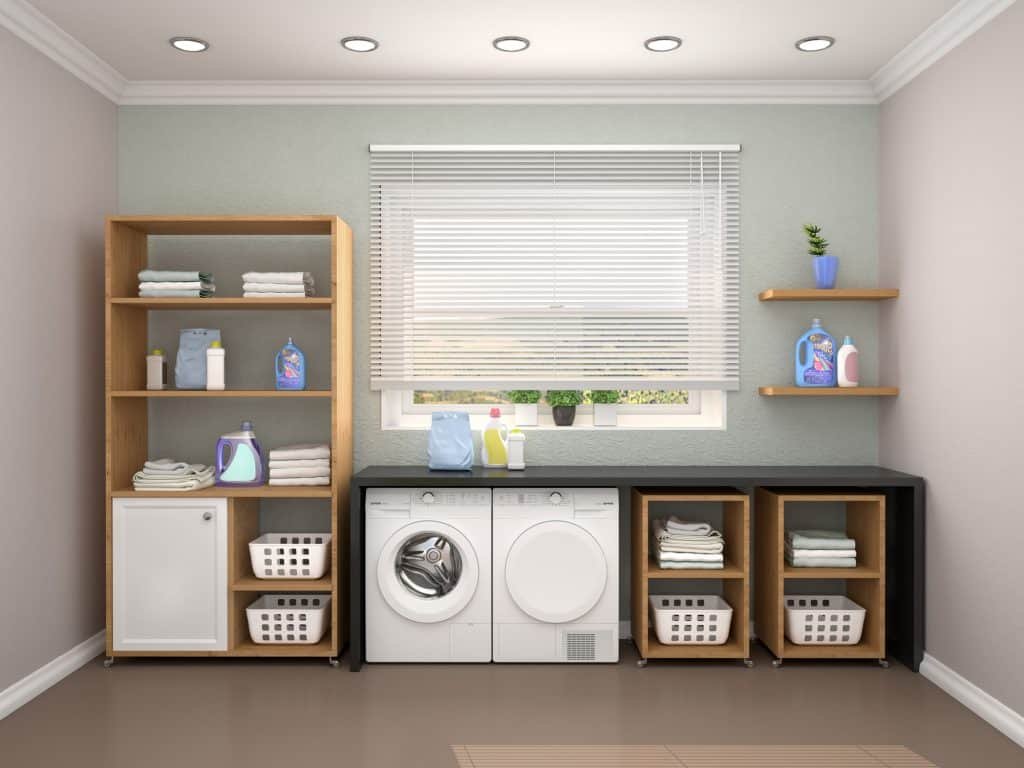 2. Build Shelves
Having a lot of shelves means lots of opportunities for organization in your laundry room. Also, it's a great way to cover up unappealing items like washer hoses. By customizing these shelves, you can make them into whatever works best in your space.
Here are a few ideas to make the most of your shelves:
Open-back cubbies are a great option because they still give you access to the hoses when needed but can easily be covered up by placing a basket or bin inside.
Wall-to-wall shelving provides excellent aesthetics as well as tons of storage space. These can be built with an access panel or a small sliding door in the back of the shelf to maintain accessibility.
3. Hide Hoses Behind Appliances
Hiding your washer hoses behind your washing machine is a simple yet effective way to cover them up. In some cases, the entire hose may be low enough that the washer and dryer can cover it easily. However, in most cases, the hose hook-up is at least partially, if not wholly, above the appliance.
You can remedy this height issue by placing your washer and dryer on laundry pedestals. These pedestals sit right underneath the appliance and lift them.
There are many sizes and varieties available to buy for different washer and dryer models. Alternatively, you can try your hand at making your own.
Some elevation pedestals include drawers or space for baskets underneath, giving you an opportunity for even more organization.
It's important to note that this method is only recommended for front-loading washers and dryers. According to Maytag, adding a pedestal to top-loaders can make it difficult to load and unload your machines. (source: Maytag)
4. Hang a Strategically Placed Curtain
You can fashion yourself an easy cover for any unwanted sight using a tension rod and some curtains. Whether your laundry is done in a designated laundry room or a more readily visible place like a hallway closet, this method is simple to do even for non-DIYers.
Tension rods are relatively inexpensive and easy to find at any hardware or home improvement store. Pick up a couple of short window curtains (or valances), and you're good to go! You can even make custom curtains with a few yards of fabric.
As long as you choose a fabric that compliments the colors and theme of your laundry space, your washer-hose cover can seamlessly integrate into the room's design.
Also, make sure the curtain is in a place where it won't come into contact with splashing water and wet laundry whenever you're washing. Otherwise, you'll have to clean your curtains more often than necessary!
5. Bring In Some Plant Life
While washer hose access points are typically on the wall behind the washer and dryer, they can occasionally be near the floor. In this case, I recommend bringing in a large, potted plant (or multiple plants) that can hide the washer hoses.
As an added benefit, indoor plants also have numerous health benefits for humans, including stress relief, increased attention span, and even increased productivity! (Source: Healthline)
When choosing a plant, be sure to pick something that'll thrive in your laundry environment. Also, consider the amount of sunlight it'll have access to, as well as the temperature and humidity of the room.
If you don't want to concern yourself with maintaining a live plant, find a nice, high-quality fake one that can serve the same purpose. Choose a pot that meshes well with the design of the rest of the room.
Rather than just covering up an eyesore, a potted plant can contribute beautifully to the mood of the room too!
6. Cover Them With Baskets
Baskets are probably the easiest way to cover washer hoses in your laundry room with no DIY expertise necessary. For washer hoses showing on the wall behind your appliances, choose several baskets of the same size to place directly on top of the washer and dryer.
Added baskets in the laundry room are another practical way to cover the hoses while providing more storage, organization, and design appeal.
I like these StorageWorks Water Hyacinth Storage Baskets (available on Amazon.com) because they come in a 2-pack set, have convenient handles, and are a thick, close weave that's sure to hide anything behind it.
You can use these baskets to store toiletries, reading materials, or even your pet's toys.
Lining the baskets up such that the hoses are covered should be an easy task. You can also rearrange them whenever necessary. Take it a step further and add some chalkboard labels to your baskets for even more organization success!
You work hard to create a space that's functional, pleasant, and customized to your needs. Try one of these helpful tips today, and you'll be so glad you finally said goodbye to having to look at those pesky washer hoses!